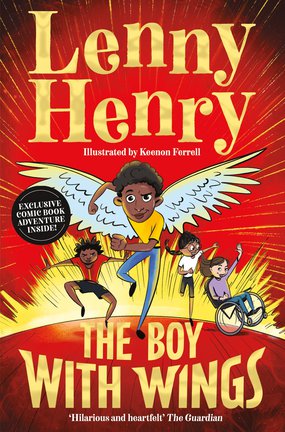 Introducing...The Boy With Wings
Thanks to our partnership with Enterprise Rent-a-Car we are spreading the joy of reading to children across the UK with the hilarious children's book The Boy With Wings (Macmillan Children's Books), written by comedian Sir Lenny Henry and illustrated by Keenon Ferrell.
The Boy With Wings is an adventure story full of comedic moments that will have children laughing out loud, whilst helping them explore themes such as identity, friendship, diversity, and family.
Hear from Lenny Henry
Sir Lenny Henry said he wrote The Boy With Wings because he didn't see Black heroes in the books he read growing up, and wants all children to see themselves appear centre stage in exciting, inspiring stories.
"I want to make sure as many kids as possible have access to books and this project brilliantly targets those kids who don't have books at home. Reading – with lots of trips to my local library in Dudley – was such an important part of my childhood, it took me on so many different adventures and to so many different worlds."

Lenny Henry
Watch the introduction video and hear Lenny Henry explain his love of reading and his inspiration for writing. This leads in to him giving an exciting reading of a key dramatic moment in the story!
Teaching resources
We have created exclusive classroom activities, free for all teachers to download and use, that accompany The Boy With Wings by Lenny Henry, illustrated by Keenon Ferrell.
These resources:
are suitable for use with children aged 7 to 9 - Lower KS2: Years 3 and 4 or P4 and P5 (Scotland)
help foster a love of reading
support the development of pupils' inference and empathy skills
Each of the five 30-minute session plans are supported by a film clip and offer fun response activities that encourage pupils to explore the core themes, events and characters in Chapter One of The Boy With Wings.
What's more, not every child needs a copy of the book to take part – the activities are all based around Chapter One, which can be accessed on this page.
Resources comprise
A teachers' pack with five 30-minute, reading for enjoyment session plans , an overview of the book and curriculum links
A pupil activity pack linked to each session plan
An extract from The Boy With Wings comprising the Prologue and Chapter One
An introductory video from Sir Lenny Henry, introducing the book and reading aloud a key extract about his main character Tunde
Five films exploring the themes of each session, from TV presenters Joanna Adeyinka-Burford and Sienna Clarke
Download the teachers' pack and activity pack from the available files list on this page.
Watch the films listed below.
Session one
Who is Tunde? We meet presenters Joanna Adeyinka-Burford and Sienna Clarke as they talk about The Boy With Wings and explore the character of Tunde.
Session two
How might it feel to be Tunde? Our presenters discuss how the events of chapter one might make Tunde feel, and explore themes of how we treat people, how this impacts them, and the importance of developing empathy towards others.
Session three
How do illustrations bring characters to life? Discussing the role and impact of Keenon Ferrell's illustrations within the book, and providing insights that lead in to a short draw-along activity.
Session four
Why is celebrating difference important? Joanna Adeyinka-Burford and Sienna Clarke discuss the importance of celebrating our differences and embracing what makes us unique. They also reimagine themselves as superheroes, turning their best trait into a superpower!
Session five
Different perspectives. In final film, Lenny Henry is back to congratulate pupils on their work, and our presenters discuss the power of seeing a situation from someone else's perspective, and how this helps us to develop empathy
The Boy with Wings and more from Lenny Henry
In The Boy With Wings, Tunde Wilkinson sprouts wings, learns he's all that stands between Earth and total destruction, and suddenly school is the least of his problems. Luckily, his rag-tag group of pals have got his back, and with his new powers, Tunde is ready to fly in the face of danger. The book includes an exclusive comic book created by Marvel artist, Mark Buckingham. Learn more or purchase a copy for your class.
Lenny Henry's second children's book, The Book of Legends, is another exciting adventure for KS2 readers. Click here to find out more.
Download files
You might also be interested in