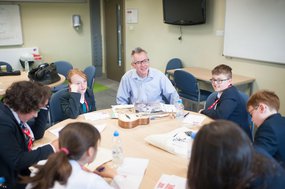 A multimodal approach to teaching literacy within disciplinary subjects in secondary schools can support students' learning and understanding. These resources are designed to help you explore this approach and to demonstrate how it would work in your classroom.
Most subjects taught in the secondary curriculum are multimodal. This means that students need to be able to make meaning from a combination of modes, including sound, gestures, speech, images and text. Digital components of lessons may include pictures, video and audio as well as written text. Graphs, tables and maps, for example, provide information that needs interpretation and the ability to do so may depend prior cultural knowledge or experience.
What the resources cover
Each resource examines the pedagogy of a multimodal approach, providing practical strategies for embedding it in the classroom. Different resources cover examples for each of:
English
History
Design Technology (DT)
We've also provided recommendations for books, websites and research reports that provide further help on developing and supporting reading in secondary schools.
Download files
You might also be interested in