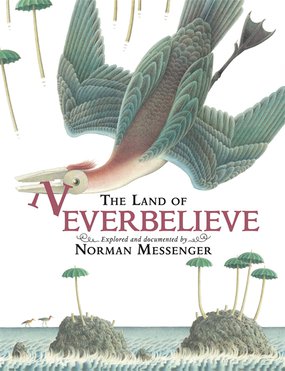 Give transition a literacy focus with this resource based on the wonderful book The Land of Neverbelieve by Norman Messenger.  The transition between Year 6 and Year 7 as a problem area for schools is a recurring finding in recent reports. For example, Key Stage 3: the wasted years? (Ofsted, September 2015) makes a strong case for transition, recommending:
• a focus on academic as well as pastoral needs
• better cross-phase partnerships to build on prior knowledge
• literacy strategies to build on prior attainment.
With this in mind, we have developed a literacy-based series of ideas and strategies to build bridges in shared knowledge and expectation between schools to support smooth academic transition in literacy. The resource straddles summer term for Year 6 and the first few weeks of autumn for Year 7. We have also provided PDFs of some of the key pages from the book for schools that are unable to source their own copies. 
Copyright © 2012 Norman Messenger.
From THE LAND OF NEVERBELIEVE by Norman Messenger 
Reproduced by permission of Walker Books Ltd, London SE11 5HJ
www.walker.co.uk  
Download files
You might also be interested in