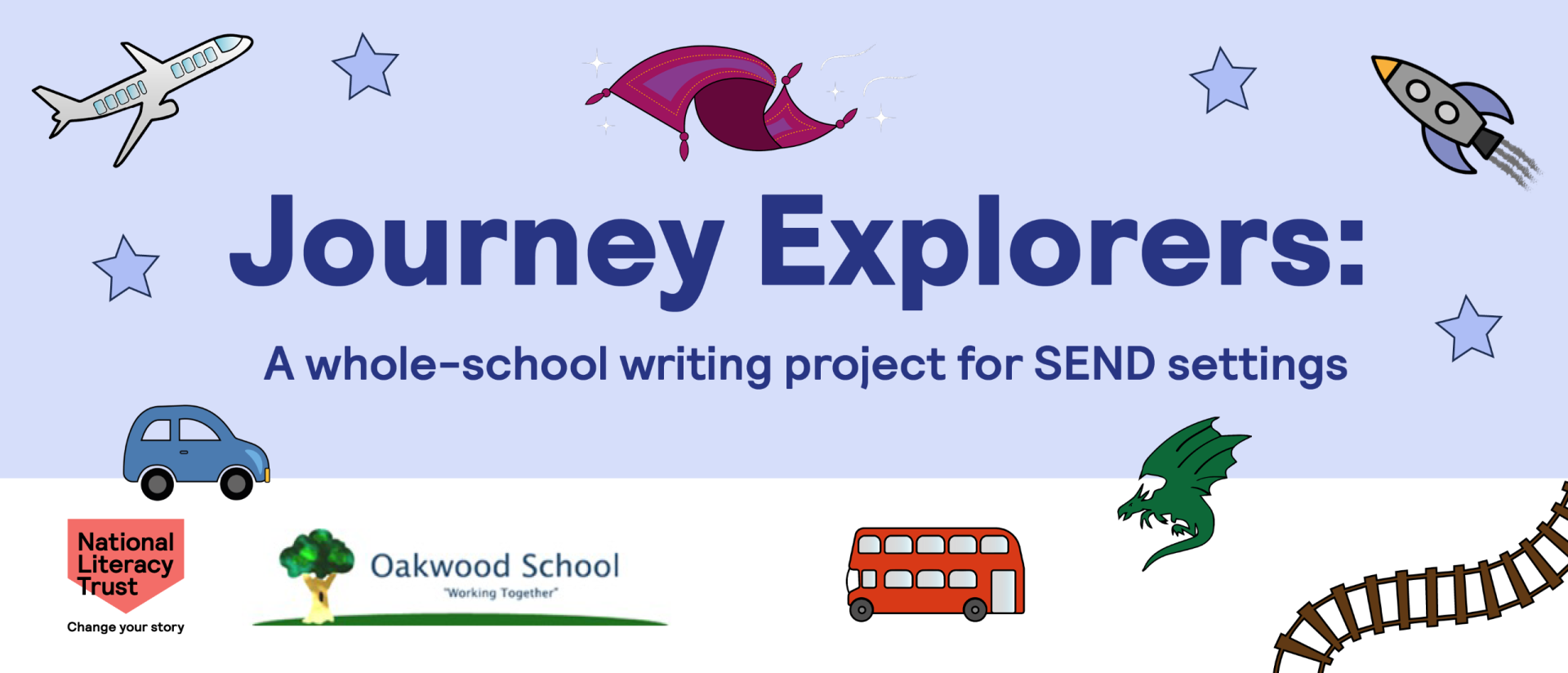 What is Journey Explorers?
Created in partnership with Oakwood School (a specialist provision for children aged 3-12 years with complex educational needs), this premium resource provides everything you need to run a whole school-writing project or inclusive competition for pupils with special educational needs and disabilities (SEND). This inclusive project allows all pupils to engage in a writing celebration with the opportunity to share a message in their own unique and creative way.
It was so exciting for us to be able to shape this project and ensure that the wonderful early writing skills of our learners are captured and celebrated. The learners have absolutely loved being part of the project and we cannot wait to run it again and again!

Nicole Rostron, Assistant Headteacher, Oakwood School
Aim of the project
The whole-school writing project aims to provide pupils with the opportunity to engage in creative writing, using the inspiration of a journey. The carefully differentiated resources provided will support SEND settings to ensure all pupils have the relevant supporting materials necessary to be successful in their writing task. Pupils could write about a small journey from the classroom to the school hall, a recent journey to school on the bus, or a magical journey to a faraway land. The inspiration can come from anywhere!
What's included in the Journey Explorers project pack?
A teacher guide with information about how to run the project and use the resources, a suggested teaching sequence and reading recommendations.
An introductory PowerPoint to kick-start the project (this could be used in an assembly or smaller class group)
Seven sensory stories exploring different types of journeys
Word mats (to provide key vocabulary linked to each of the seven sensory stories)
Colourful semantics word prompts (to help with sentence formation)
A certificate template for pupils, if running as a competition.
A PowerPoint visual version of each sensory story (appears as as separate download in the files below)
Being a part of this project showed that our children can achieve and can excel in their communication and writing skills. The different tiers enabled all children to participate at their own level and achieve. It didn't matter what the children were able to do as there was something for everyone. It gave our children an opportunity to be included in a writing competition that in a mainstream setting they wouldn't be able to participate in. Their parents were also able to see that their child is able to be a part of a big project and their work is valued regardless of any need their child has.

Claire Jennings, Class Teacher, Oakwood School
Download files
You might also be interested in