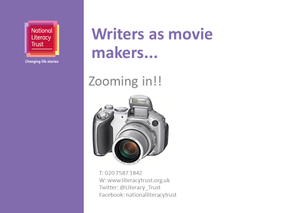 Integrate grammar with the writing process using our PowerPoints and accompanying lesson notes for primary teachers. There is an introductory document plus two presentations:
1) Writers as movie makers: using prepositions for effect. A PowerPoint and lesson notes for a Year 2/3 lesson on how to create filmic story openings to impact and engage our reader using prepositional language.
2) Writers as artists: using a range of sentences for effect in characterisation. A PowerPoint and lesson notes for a Key Stage 2 lesson on how to use "drop in" clauses or phrases to develop a character description.
Download files
You might also be interested in