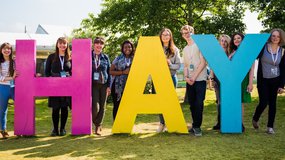 The experiences, attributes and actions of the characters we read about enable us to recognise ourselves. The ideas we present and vocabulary choices we make when writing enable us to express ourselves. Reading and writing are central to the development of our identity; they shape who we are and who we become. 

This learning sequence resource uses the Letters to the future: on equality and gender texts by Owen Sheers and Laura Bates, written for Hay Festival 2018, to explore conversations around what true gender equality might look like and the use of gendered language, as well as teaching students about writing for purpose.
The book list features titles for a range of ages focused on gender equality and female empowerment. It includes titles such as Blueberry Girl by Neil Gaiman, Boys Don't Cry by Malorie Blackman, Good Night Stories for Rebel Girls by Elena Favilli and Francesca Cavallo and Orangeboy by Patrice Lawrence. 
To find out more about the book and to order a copy, please visit www.hayfestival.com/letters-to-the-future.
Download files
You might also be interested in