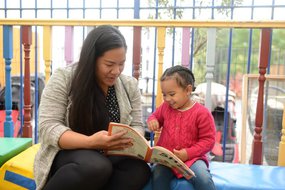 Discover new and exciting books for young children with these eight book lists.
The lists include titles on these topics:
Animals - This cast of heart-warming characters from the natural world includes ducks, penguins, wallabies and even a shark!
Bedtime - Not tired? Inspiring and reassuring tales that might just help to get children to sleep.
Dinosaurs - They're always popular with kids but this list also features pirates and even a title written by Julia Donaldson.
Babies - Start them early with the best books for babies under 6 months and older.
Sounds and actions - Clap, wiggle, squiggle and moo! Titles to inspire you and your little ones to get active and make some noise.
Classics - Including titles by Rod Campbell, Judith Kerr and featuring illustrators like Helen Oxenbury and Eric Carle.
Families and friends - Get the grandparents involved with these stories about life's important relationships. Features a Charlie and Lola classic by Lauren Child.
Imaginative stories - Off-beat, adventurous and out of this world writing to really inspire a love of books.
Links to the national curriculum
These resources are linked to the national curriculum in the following areas:
Early Years Foundation Stage (EYFS) areas of learning: communication and language, personal, social and emotional development, literacy, understanding the world

This content was updated in 2017 from an original list compiled by Jacky Offord at Suffolk Schools Library Service.
Download files