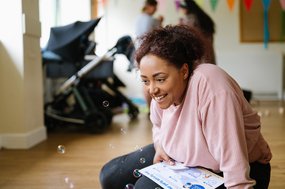 What is First Words Together?
First Words Together is a unique family learning programme focussing on early communication, developed with Speech and Language Therapists and delivered by trained practitioners to families with children up to the age of two. The programme trains practitioners to deliver First Words Together with a bank of carefully designed resources with full session plans and specific training on age-appropriate language development.
The impact of First Words Together
In order to explore the impact of participating in First Words Together on families and practitioners, we asked parents and practitioners to complete various evaluation tools as part of the programme.
Key findings included:
Changes in parents' knowledge and confidence

While only 1 in 8 parents knew the different ways to talk and interact with their child (12.8%) and about taking turns and eye contact as ways to support their child's communication (12.9%) before the programme, nearly all did so after taking part (95.8% and 92.8%).
The percentage of parents who felt confident to sing songs and rhymes with their child nearly doubled over the course of the programme (from 51.4% to 94.3%).
The percentage of parents who felt confident to visit the library, children's centre or nursery to participate in activity or borrow books increased by 83% (from 42.9% to 78.6%)

Changes for practitioners

All practitioners felt equipped to increase parents' confidence to support their child's development at home
Nearly all (97.4%) practitioners felt confident sharing key activities and information about the programme with parents
All practitioners felt they had a better understanding of how they can help parents to support their child's early literacy development.
Overall, the report shows that First Words Together programme has been successful in equipping families and practitioners to better support children's early speech, language and communication development.
Download file