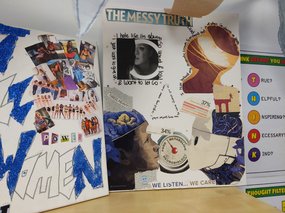 About Represent
Represent is a programme designed for girls aged 11 to 14 excluded from, or at risk of being excluded from, mainstream education. It aims to to improve their communication skills, resilience and wellbeing, and increase their understanding of how to form positive relationships. Delivered over three terms in 2022 and 2023, the programme is structured around 10 one-hour sessions, centred on a selection of texts and activities that scaffold oracy and engage students in discussions to strengthen their deep understanding of the key messages and support literacy skills development. The content explores issues that particularly affect girls who have been excluded, or who are at risk of exclusion, but may also be used with mixed groups, as these are important themes for all.
Key findings
An external evaluation of the programme conducted by Manchester Metropolitan University (MMU) found that the intervention:
increased students' self-confidence and confidence in reading.
increased students' communication skills.
positively impacted students' wellbeing.
developed relationships between facilitators, students and, to a lesser extent, parents.
The resources developed as part of the programme also enabled structures through which meaningful discussions on the important topics in the students' lives could take place and provided diverse representation through which students could more readily identify themselves and/or understand other people's perspectives.
Download file