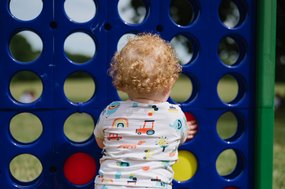 About First Words Together
First Words Together is a unique family learning programme focussing on early communication, developed with Speech and Language Therapists and delivered by trained practitioners to families with children up to the age of two. The programme trains practitioners to deliver First Words Together with a bank of carefully designed resources with full session plans and specific training on age-appropriate language development.
Key findings
An external evaluation of the programme conducted by the Centre for Research in Early Childhood (CREC) found that the programme has led to:
increased parent confidence and understanding in supporting their child's early speech and language development and in their parenting practices more generally. For example, 90% of parents reported a positive change in their knowledge of the ways to talk and interact with their child while 78% reported positive change in their confidence to visit the local library, children's centre or nursery.
enhanced, language-enriched home learning environments reported by parents, particularly with regards to parent/child talk and book sharing.
improved early speech and language skills of children and improved personal and social skills of the children, providing a good basis for the EYFS prime areas of learning (school readiness).
increased practitioner understanding of communication and language development of one year olds and the importance of the home learning environment, and increased confidence to share key activities and information about the programme with parents and better equipped to improve parents' confidence to support their child's development at home.
Evidence of consultation and co-construction of programme content and structure with parents/service providers is provided through several developments in the programme delivery which include the implementation of strategies to achieve: continued attendance at sessions; the flexible delivery of course content and structure; and enabling extended family involvement.
Download file