Today, we launch new research with green energy supplier Octopus Energy which shows a quarter of 18-to-24-year-olds struggle to understand their energy bills as well a new bill explainer to help people better understand their bills and video content with insights from three bill payers including British food writer, journalist and campaigner Jack Monroe.
What did the research show?
Our research showed over 91% of the youngest bill payers couldn't correctly identify all six key energy bill terms – including "dual fuel", "kWh" and "tariff" – compared with just 21% of the over 65s.
Only 47% of all bill payers were able to correctly identify all six common terms. This highlights widespread misunderstanding of what bill payers are paying for and how this is a real problem in the youngest generation.
The youngest age group are also the most likely to avoid reading their energy bills because of the language used. Seven times as many 18-to-24-year-olds compared to those aged 65 and over say that they sometimes don't read their bills for this reason (22% vs. 3%).
What's more, almost half (45%) of this age group had to ask for help to explain a word or term they did not understand in the last 12 months, in contrast with just 1 in 50 (2%) of over 65s.
Overall, one fifth of the adults surveyed said they have sought help understanding their bill in the last year. This more than doubles to over half (51%) of respondents with the lowest levels of confidence in their reading skills.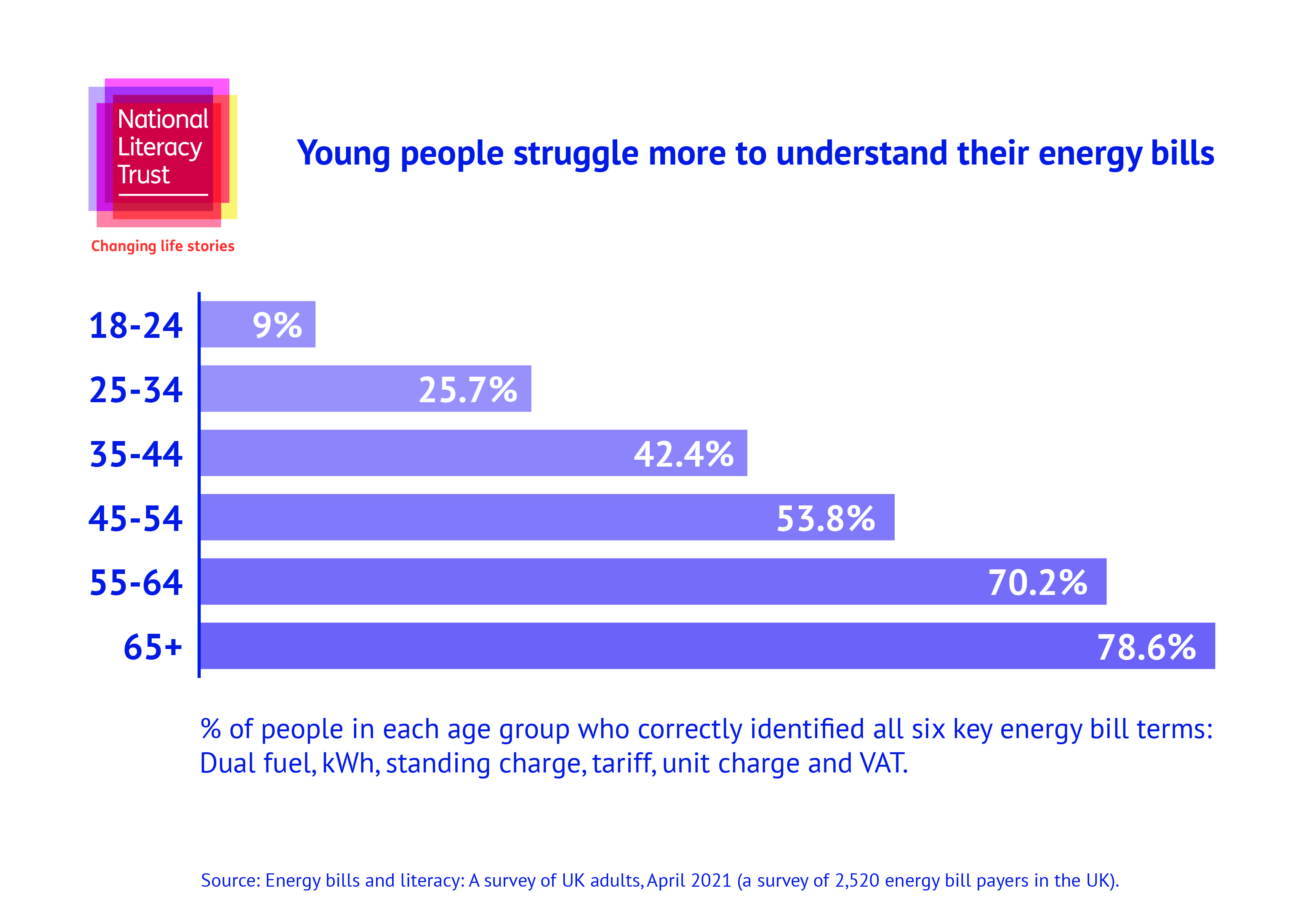 How can we fix this?
Simplifying the language used in energy bills would appeal to the majority of bill payers, with almost two-thirds of bill payers agreeing that the language used in energy bills needed to be more accessible.
Octopus Energy leads the industry in using clear language. It uses an annotated statement guide on its website to explain terminology and has won awards for its accessibility innovations. In response to the research, it has created a bill explainer which every customer will have access to through their energy accounts.
We tested the bill explainer with three bill payers, including Jack Monroe
Alongside the research, we created video content which you can find on our Words for Life site. We spoke to three bill payers: Jack Monroe, Tony Dallas and Ella Baker. They told us how they can find bills confusing and had difficulties understanding all six key energy bill terms , reflecting the findings in our survey.
They were glad to know they were not alone in feeling this way and felt more confident with their bills after reading the definitions we developed with Octopus for its bill explainer.
"Literacy plays an essential role in all aspects of life and it is clear the energy sector must change to accommodate the widespread lack of understanding of energy bills. Simplifying the language will benefit everyone: almost two thirds of respondents told us they are looking for more accessible language. However, it will especially help the many adults who lack confidence in their reading ability – as half of these people have asked for support deciphering their energy bill in the last year alone. If the industry changes, there could be a hugely positive impact on the way people interact with energy: using less and better supporting the environment."
Jonathan Douglas CBE, Chief Executive of the National Literacy Trust
The full report can be found here.
Here are the six key definitions featured in the bill explainer, to help you better understand your bill