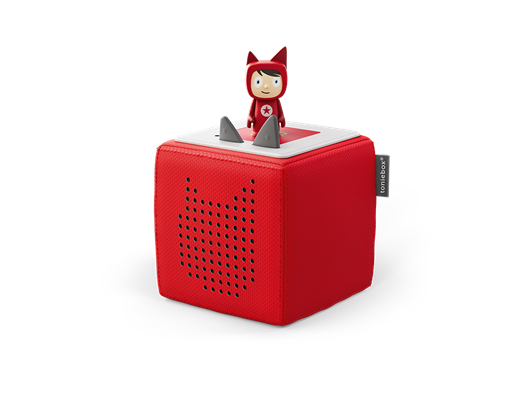 To support teachers and help children boost their literacy skills, through the power of audio, we've teamed up with the interactive audio system, tonies®, to offer 25% off their unique and exciting products!
Thanks to tonies®' Schools and Nurseries Education initiative, teachers will be offered this generous discount on the collectible figurines, known as Tonies, and the starter sets of the speaker, known as Toniebox. Included in the starter sets are Creative-Tonies, containing 90 minutes of 'blank audio space', enabling teachers to upload their own content for children during lessons.
As part of the initiative, tonies® commissioned the National Literacy Trust to research the link between listening to audiobooks and increased vocabulary in children. Almost all (95.6%) of children in the survey said they enjoy hearing stories read to them - find the research report here.
Analysis by the National Literacy Trust found that 380,000 children in the UK do not own a book and without essential vocabulary and literacy skills being instilled at a young age, children are likely to be held back at every stage of life.
Audio is increasingly being recognised by parents and education professionals as a tool that has the potential to close the literacy gap, with listening to audiobooks and music helping to improve literacy skills and vocabulary in an enjoyable, accessible way.
---
Emily Best, Knowledge and Research Manager at The National Literacy Trust, comments: Our research shows that engagement with audiobooks can benefit children's reading skills and enjoyment, as well as their mental wellbeing and emotional intelligence.
"During the first lockdown, more than half of children said listening to audiobooks increased their interest in reading and 2 in 5 said it made them more interested in writing. Boys were particularly likely to listen to audiobooks during this period.
"For children who struggle to decode words, audiobooks and podcasts provide a great alternative to books - children can still be immersed in a narrative, while building vocabulary and improving comprehension."
Having a Toniebox in the classroom has the ability to introduce children to an entire world of stories and tales, building a bridge to an eventual love of words and reading that will set them up for life. The Toniebox can also act as another pair of hands in the classroom and can be a real help to teachers with pupils who learn at a slower pace or who may have special educational needs.
Miss Grant, Early Years Teacher at Granton Primary School, comments: As a teacher in Early Years, I read to the children every day, but the Toniebox has been such a benefit to have in class. I use a Creative-Tonie to invite children to complete weekly classroom challenges.
I have also noticed how it's developing their listening and attention skills, as it engages them so well.
I like how it can also be cross-curricular: I sometimes put it in the Maths area with the counting songs Tonie and use a Creative-Tonie to record Maths challenges or questions on there. It's so much better than using a computer, tablet or laptop, as it is more personal and they can use it independently.
---
Available in six eye-catching colours, the Toniebox is free of sharp edges and corners and is shock resistant. Even the controls make you smile - just squeeze the ears to change the volume, tap the sides to switch chapters and tilt to fast-forward or rewind.
The Tonie-family includes well-known and much-loved faces, such as The Gruffalo, Stick Man, The Snowman, The Little Prince, Little Red Riding Hood, Peter Pan, and recently now our first Disney Tonies. Plus teachers can choose from over 60 Tonies and 23 Creative-Tonies.
Tonieboxes are £69.95 RRP, Tonies are £14.99 RRP, and Creative-Tonies are £11.99 RRP.
---
Pinky Laing, UK Partnerships at tonies® comments: tonies® is committed to helping children learn through the power and magic of storytelling and we are delighted to help support schools and nurseries across the UK with such an important education initiative.
Our audio storytelling devices help to engage young minds, and we feel fortunate that we can help inspire the next generation to learn and develop their literacy skills.
For 25% off a tonies® starter set, four content Tonies and a Creative-Tonie, teachers should visit the Tonies Education page and fill in their details.