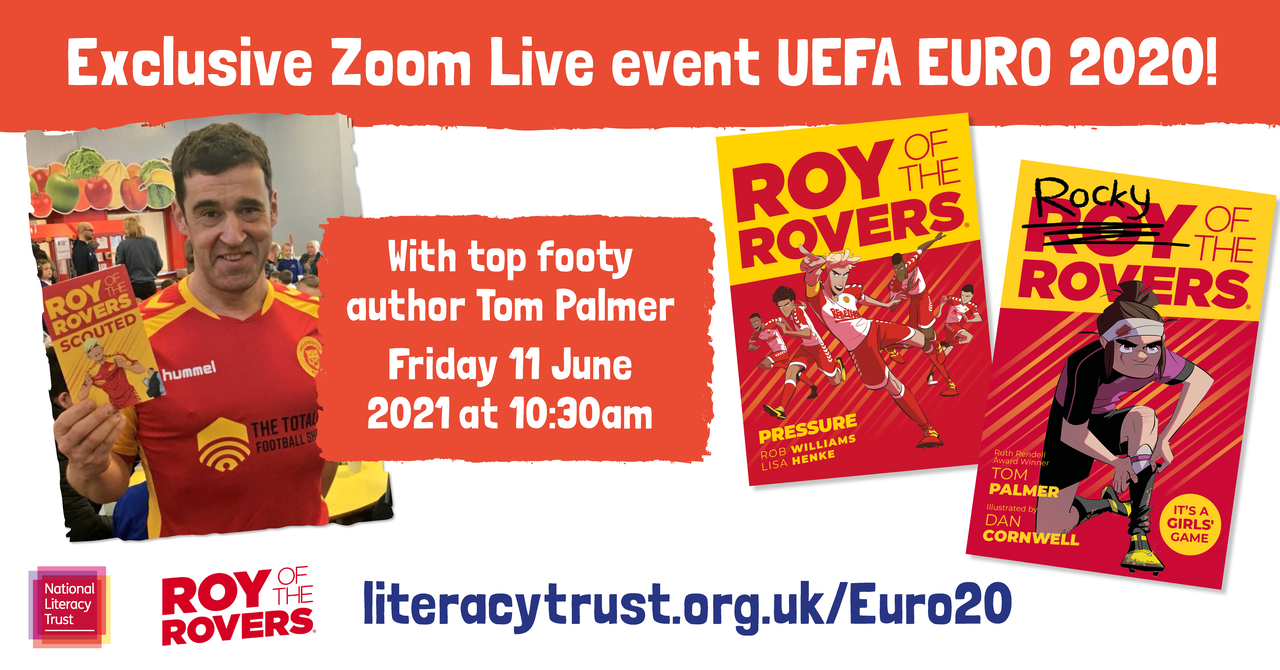 Inspired by the UEFA EURO 2020 tournament, we are working alongside The Football Association (FA), Rebellion Publishing and award-winning author Tom Palmer to help pupils get into reading through their love of football this summer.
There are two new and exciting ways to get your children involved in our literacy activities.
Today, we are very exacted to launch a new Reading Challenge in the shape of a UEFA EURO 2020-inspired reading wallchart and announce a new online story by author Tom Palmer coming in June, which will be published three times a week 'live' throughout the UEFA EURO 2020 tournament. Further information on both activities can be found here.
We will also be kicking off the tournament with a live Zoom webinar event with the author on day one of the tournament.
The Reading Challenge
This new Reading Challenge involves a wallchart reflecting the tournament fixtures with recommended book titles twinned with participating countries 'playing off' against each other. Children will have 'book matches', to ultimately find a class favourite, and find out which title will be crowned champion of Europe!
Pupils are encouraged to read their chosen text and participate in 'book matches' where they will present three points about why their title should progress in the tournament, followed by a vote from the whole group or class to see who goes through. At the end of the tournament everyone commits to reading the winning text in celebration.
The reading challenge is also part of 11 exciting curriculum-based challenges that can be found in The FA's UEFA EURO 2020 Schools Pack, which you can access from here. The pack includes activity sheets, teaching guides, and classroom display resources.
Get a free poster!
What's more, the first 1,000 schools to sign up get a free physical poster! The wallchart resource which allows pupils to follow the progress of each other's texts, instructions and sign up information can be found here.
Live online event and story with Tom Palmer
Following this, on Friday 11 June at 10.30, we will run a free, live Zoom webinar event with Tom Palmer, aimed at children aged seven to 12 in which they'll be able to ask questions about football, reading and writing.
Register here today!
This will include a live reading of the first chapter of Tom's story he is writing as the tournament unfolds, featuring characters from his Roy of the Rovers books – Roy and his sister Rocky – to excite children and young people about reading during the tournament.
The story will be written in 12 'live' chapters that will be released during the tournament on our Euros resource page at 7.30am every Monday, Wednesday and Friday. Supporting worksheets and video content will also be available.
I'm really looking forward to kicking off the Euro 2020 tournament with this interactive online event on 11 June! If you love watching and playing football, or talking, reading and writing about it, then please do join us. You can submit questions for me to answer during the event about reading, writing and football, of course. And don't forget to read along as our live story unfolds, featuring Rocky and Roy Race as they travel Europe to watch the tournament!

Author, Tom Palmer