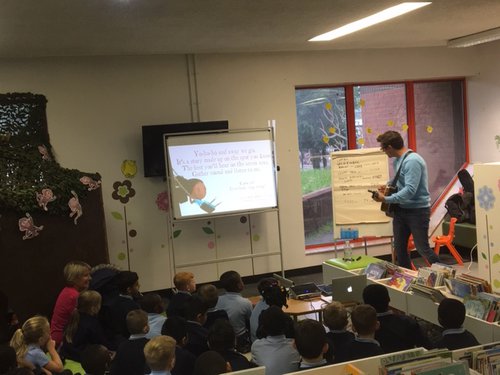 Empathy Day focuses on using books as tool to build more understanding between us all, because scientific research shows that reading builds our real-life sensitivity towards other people. Reading empathy-boosting stories and poems can help to challenge prejudice and build connections between us all.
Empathy Day and the sessions held in the second week of June were a great success across Manchester Libraries. We held 22 Rhyme Time sessions for pre-school children across all Manchester City Libraries, talking to children and parents/carers about empathy and telling stories linked to that theme. Reading and talking about storybook characters took place around three main titles - Elmer, A Great Big Cuddle, Lulu Gets a Cat and other titles.
Author Tom Percival visited three libraries where he ran fun sessions for 150 children and read Ruby's Worry. The children talked about empathy and made up their own stories, followed by a sing-along!
Libraries also held sessions with empathy glasses, Doodle pens and Lego. Key Stage 1 and 2 classes looked at The Last Chip and The Day War Came to explore the theme further.
In total, 1580 people (1255 children and 325 adults) took part in these empathy experiences. Children told us that they had learned more about empathy, talked about issues and made an empathy resolution, as well as finding different books to read.