Only 2% of children and young people in the UK have the critical literacy skills they need to tell if a news story is real or fake, according to our survey published today in a report from the Commission on Fake News and the Teaching of Critical Literacy Skills in Schools.
The commission, run by the All-Party Parliamentary Group (APPG) on Literacy and the National Literacy Trust, in partnership with Facebook, First News and The Day, has gathered a wealth of evidence over the past year on the impact of fake news on children and young people, and the skills children need to be able to spot it.
The report, Fake news and critical literacy, reveals that fake news is driving a culture of fear and uncertainty amongst young people. Half of children are worried about not being able to spot fake news and almost two-thirds of teachers believe fake news is harming children's well-being by increasing levels of anxiety, damaging self-esteem and skewing their world view.
 The online proliferation of fake news is also making children trust the news less. Almost half of older children get their news from websites  and social media, yet only a quarter of these children actually trust online sources of news. Regulated sources of news, such as TV and radio, remain the most used and the most trusted by children and young people in the UK.
Half of teachers feel that the national curriculum does not equip children with the literacy skills they need to identify fake news and a third feel the critical literacy skills taught in schools are not transferable to the real world. In response to the commission's recommendations, we have published a series of fake news and critical literacy resources and posters for teachers, school librarians and children, as well as a top tips guide for parents,
Jonathan Douglas, Director of the National Literacy Trust, said: "The way young people experience news is changing rapidly. This transformation, which has been driven in particular by the rise of digital and social media, has given young people exciting new opportunities to become creators, curators and communicators of news – not just consumers of it. However, with these new opportunities come new threats. We have uncovered a dangerous lack in the literacy skills that children and young people require to navigate our digital world and identify fake news. If we don't take urgent action to bring the teaching of critical literacy skills into the 21st century and to engage children actively with news, we risk damaging young people's democratic futures, along with the well-being of an entire generation. "
Lucy Powell MP, chair of the APPG on Literacy, said: "Many children told us that they lack the literacy skills needed to identify fake news. This is causing them to mistake false news for fact, become anxious as they believe misleading stories, and risk exposure to malign agendas. The digital landscape is evolving at a tremendous rate but the literacy skills children need to thrive in this world are not keeping pace. With the serious risk this poses to democratic engagement, it is with great urgency that we call for increased support from the Government and media organisations to enable children to acquire the critical literacy skills they need to actively engage with today's plethora of news sources and to thrive in this digital age."
TV presenter, broadcaster and journalist Mariella Frostrup has been a key supporter of the commission and is delivering the keynote at an event in the Houses of Parliament on 13 June.
Mariella Frostrup said: "In the last couple of years we've learnt to our cost that the proliferation of news outlets and access to social media forums doesn't necessarily help us stay abreast of the facts. Confronted by today's tsunami of information – true, slanted and totally fabricated – it can be hard for adults to form educated opinions and make the right choices. How much more confusing must it be for our children? The National Literacy Trust's timely study is an important reminder of the need to equip young people with the confidence and imperative skills to chart their own cautious course through the acres of fake news and propaganda." 
The commission has launched a Children's Charter on Fake News, encompassing five areas of change designed to give young people the requisite skills and knowledge to confidently navigate, analyse and assess the validity of the news they find online, in print and on TV and radio: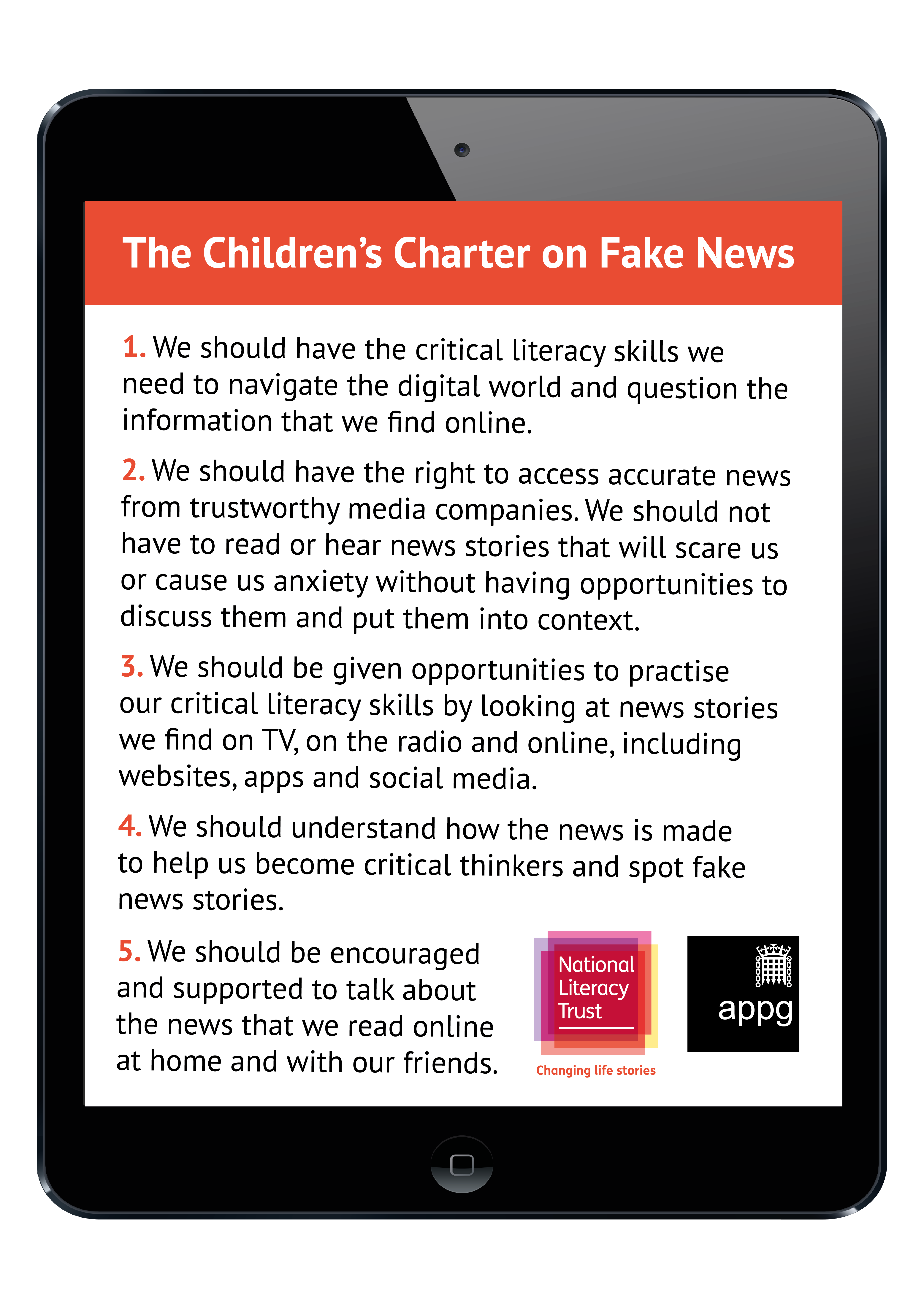 Read the full report.
Find out more about the Commission on Fake News and the Teaching of Critical Literacy Skills in Schools.