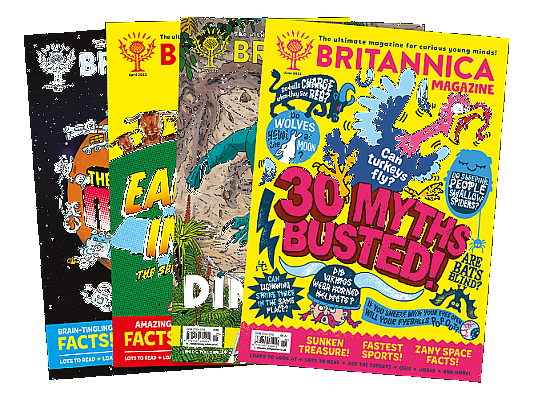 We're thrilled to announce a fantastic partnership with Britannica Magazine, a new monthly non-fiction magazine designed to inspire curious young minds.
Premium National Literacy Trust school members can claim a 15% discount on a one-year subscription to Britannica Magazine – including a free copy of the Britannica All New Children's Encyclopedia worth £25. This fabulous offer helps schools save money while bringing extra appeal and diversity to the range of reading material available in the classroom and school library.
To celebrate this new partnership, Britannica Magazine is gifting 1,000 magazines to classes that have taken part in our Young Readers programme this year. This generosity means that these children get their very own copy to take home and keep – ideal for summer holiday discovery and entertainment!
Reading to learn new things was identified as a key motivation in National Literacy Trust research (Children and young people's reading engagement in 2021), with 51.4% of respondents citing learning about new things as a reason they chose to read. Wellbeing also featured strongly in this research with 1 in 2 (52.7%) children and young people saying they read to relax, and 2 in 5 (44.6%) agreeing that reading made them feel better.
Furthermore, we know that children's reading engagement is impacted by not being able to find things to read that interest them (Forgotten Girls: The reluctant girl readers, 2021). This shines a light on the importance of offering a diversity of genres, authors, formats and topics in school library provision.

Britannica Magazine launched in April, and has been developed by What on Earth Magazines in collaboration with Encyclopedia Britannica. It is aimed at children aged 7 and up, helping them become experts across a wide range of fascinating real-world topics, from space and animals to inventions and weird-but-true facts.
In every issue, curious young minds can discover amazing facts about our wild and wonderful world. The magazine will keep children enthralled with features, lists, puzzles, quizzes and the chance to 'ask the experts', as well as featuring beautiful illustrations and stunning photography.
"We believe the best stories are true stories. With this monthly magazine we hope to inspire children with a love of learning, through reading, and with it a joy of life. We want you to say 'Wow!' with every page you turn."

Christopher Lloyd, CEO of What on Earth Magazines
"We're delighted to be offering this new partnership discount to our member schools. Empowering children to find their own reader identity is a cornerstone of National Literacy Trust reading for pleasure programmes. Britannica Magazine combines amazing facts and captivating images in an accessible format, and could be the key to unlocking reading enjoyment for many children."

Fiona Evans, Director of School Programmes at the National Literacy Trust
Learn more
Member schools can learn more about claiming the Britannica Magazine discount on our membership partner discounts page.
Schools without a premium membership can learn more about this offer, together with all the wider benefits of membership, by visiting our Join Us page.
Learn more about Britannica Magazine and plans to grow their support for schools.