Last week, Doncaster school children finally got to meet Robert Macfarlane and Jackie Morris, the creative duo behind The Lost Spells, a book that has inspired a local project with Doncaster Stories and local schools.
The event was attended by 300 children aged 7-11 who all enjoyed performances, short-films and readings. The Lost Spells by Robert Macfarlane and Jackie Morris is the sequel to the bestselling book The Lost Words: A Spell Book which is a celebration of the natural world and was written to conjure the return of words that are disappearing from children's vocabularies.
Children were given the opportunity to ask the author-illustrator duo questions about the book that has inspired much of their school work in recent weeks. As part of the project, five local primary schools were given exclusive access to the poem Jackdaw prior to its publication in early October. Children read, learned and performed the poem for a montage video compiled by Doncaster Stories. Robert Macfarlane and Jackie Morris watched the video for the first time during the event and it will be available to the public very soon.
St. Peter's Catholic primary school uploaded their performance of Jackdaw to Twitter achieving over 10,000 views overnight and catching the attention of both Robert and Jackie.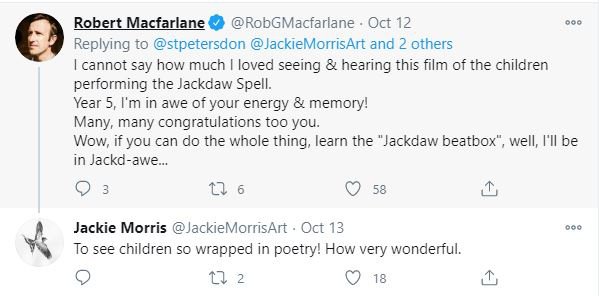 ---
Poet and author Robert Macfarlane said:
"I couldn't wait to hear children recite Jackdaw. It's perfect for children speaking it in groups: it is tongue-twistery, fun, and all about noisy crowds speaking together. Of course, the children of Doncaster rose to the poetic challenge. They delivered their performances with such personality and expertise; I was in awe of their energy and memory."
Phil Sheppard, Senior Project Officer for Doncaster Stories, said:
"It was amazing for the children of Doncaster to be given this poem to perform – every school we worked with loved it and the enthusiasm from the children was a joy to see. One teacher even commented that her pupils felt like Eminem when performing it! It was fantastic to be able to bring schools from around the borough together in such a fun way, especially during such difficult times."
Cathy Young, deputy head at St Peter's Catholic Primary School in Doncaster, was delighted that a clip of her class performing the poem reached some 11,000 views on Twitter:
"It is amazing to see children getting so enthusiastic about poetry. We are so proud of their performance and they cannot wait to meet Robert Macfarlane and Jackie Morris to ask them about writing and illustrating such an inspirational book."