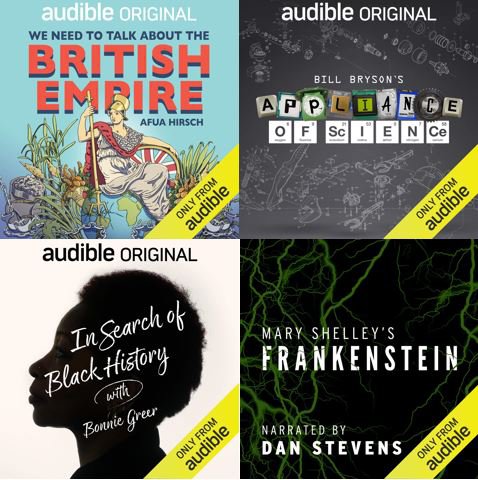 We have teamed up with Audible to bring audiobooks to young people in custody, and introduced podcast making lessons to Feltham Young Offender Institution. This is part of our Inside Stories with Audible project, which aims to help young people develop their communication and literacy skills and improve their confidence through a range of audio activities.
As part of this project, Audible and National Prison Radio supported groups with podcast making sessions, where young people learned about storytelling, interview techniques, editing skills, recording, reflection and listening.
Our partnership also saw the implementation of 30 audiobook devices which are pre-loaded with a wide range of titles that the young people selected, following on from focus groups on their specific reading interests.
Titles include the likes of The Beast by Adebayo Akinfenwa (Headline), and Brief Answers to the Big Questions by Stephen Hawking (Hodder & Stoughton) which are featured alongside several Audible Originals such as In Search of Black History by Bonnie Greer, Bill Bryson's Appliance of Science and Days that Changed the World by Carrie Gibson.
Participants were visited by noted audio figures including Alexandra Curran and Jonathan Williams from Audible, who helped to develop storytelling skills, Hilary Ineomo-Marcus, a former NPR producer, who taught participants useful interview skills, and George the Poet, spoken-word artist, poet, rapper, and podcast host who helped with their creative writing. The participants' podcasts were then aired on NPR which is available broadcast into 80,000 prison cells in England and Wales.
In custody, educational disadvantage is often compounded, research found in one year only 1% of youth offenders in custody for 12 months or less achieved 5 or more GCSEs A*-C.
Recent National Literacy Trust research showed that audiobooks can break down some of the barriers to reading for reluctant readers, with 1 in 5 children and young people (aged 8-18) saying that listening to an audiobook or podcast got them interested in reading books. Audio allows children and young people to access a wide range of stories, and listen to stories beyond their reading level.
On the introduction of the audiobook devices into HMYOI Feltham, Patrick Allen, Head of Education, HMYOI Feltham said: "The introduction of the audio devices to Feltham has been a revelation. Our lessons went from being almost entirely paper based, to having interactive resources which have already improved learner engagement and behaviour. Feedback from teachers and learners has been overwhelmingly positive. We will build on this success by expanding the use of the tablets, with the help of our partners the National Literacy Trust and Audible."
The partnership looks towards continuing this project.
Rebecca Perry, Policy and Programme Manager at the National Literacy Trust, said: "We're really glad to be able to deliver such an exciting opportunity to young people in HMPYOI Feltham. Thank you to Audible and National Prison Radio for your unwavering support.
I was particularly struck by the sessions which cover interview technique – not only did these develop the young people's skills and increase their confidence, it also gave them the chance to have open and honest conversations with people who also have personal experience of the criminal justice system and have gone on to turn their lives around. The personal nature of the stories the young people recorded for broadcast on NPR was a testament to the space which had been created for them to express themselves."
Kevin Addley, Country Manager UK from Audible, said: "It's been a privilege to work closely with the National Literacy Trust to improve literacy levels and provide skill-based training to the young people at HMYOI Feltham through this collaboration. Inside Stories with Audible is a testament to creativity and joy that can come from podcast making and access to audiobooks, and we're delighted to have been able to support the participants. The work they've produced has been incredibly moving and inspiring to listen to and we look forward to continuing this project."
To view the booklist of titles selected by the young people who took part in the project, please visit our Words for Life site here.