On Saturday 29 April, author Max Porter and artist Bill Daggs hosted a day of poetry and performance at The Exchange in Birmingham in partnership with Faber and the National Literacy Trust's Birmingham Stories. The event celebrated the launch of his new novel Shy and inspiring young people in the city to engage with creative writing and poetry.

During the day a group of young people aged 16-18 from across Birmingham took part in a creative workshop with Max and sound artist Bill Daggs, exploring themes within Shy and how they relate to their own lives. Taking inspiration from the polyphonic nature of the book, the group drew from their own experiences and writing to build a creative text and audio collage themed around the importance of being heard and telling your story.

The evening saw the official launch of Shy, Max's fourth and newest novel in the Birmingham Exhange. 100 people from across Birmingham attended the event to hear Max perform extracts from Shy, incorporating young people's voices and a soundscape from Bill Daggs. Max spoke about the process of developing the soundscape with the young people, one young person shared that "people where I'm from don't get to do things like this, it was the most liberating experience of my life". Max was then joined on stage by Jonathan Douglas, they spoke about the impact of literacy programmes and access to books for young people and Max's inspirations behind Shy.
After a performance from Max Porter, poetic voices across Birmingham took to the stage to join Max and perform their work. Performers included Iona Mandal, Young Poet Laurate of the year, Nafeesa Hamid, local poet published by local poetry press Verve Poetry, and Ryan Dre Sinclair of Empower CIC and artist Bill Daggs. It was a special performance for poet Nafeesa Hamid who came especially from her wedding with her wedding party to perform. The cohort of poets, compered by Max Porter, had a range of their books available from new local bookseller Heath Bookshop.
"This is the dream event for me, collaborating with these different organisations, presses, writers, artists and young people. We're coming together to listen, talk, share and experiment, to support the widest possible range of voices and stories on and off the page. It's an unmissable showcase of Birmingham-based talent. I'm honoured to share a stage with these people, and delighted that Shy is getting unpacked, shared, rebuilt and re-imagined in this exciting way. I can't think of a higher compliment to a book. Thanks to Faber, Birmingham Stories and The Exchange for making it happen."

Max Porter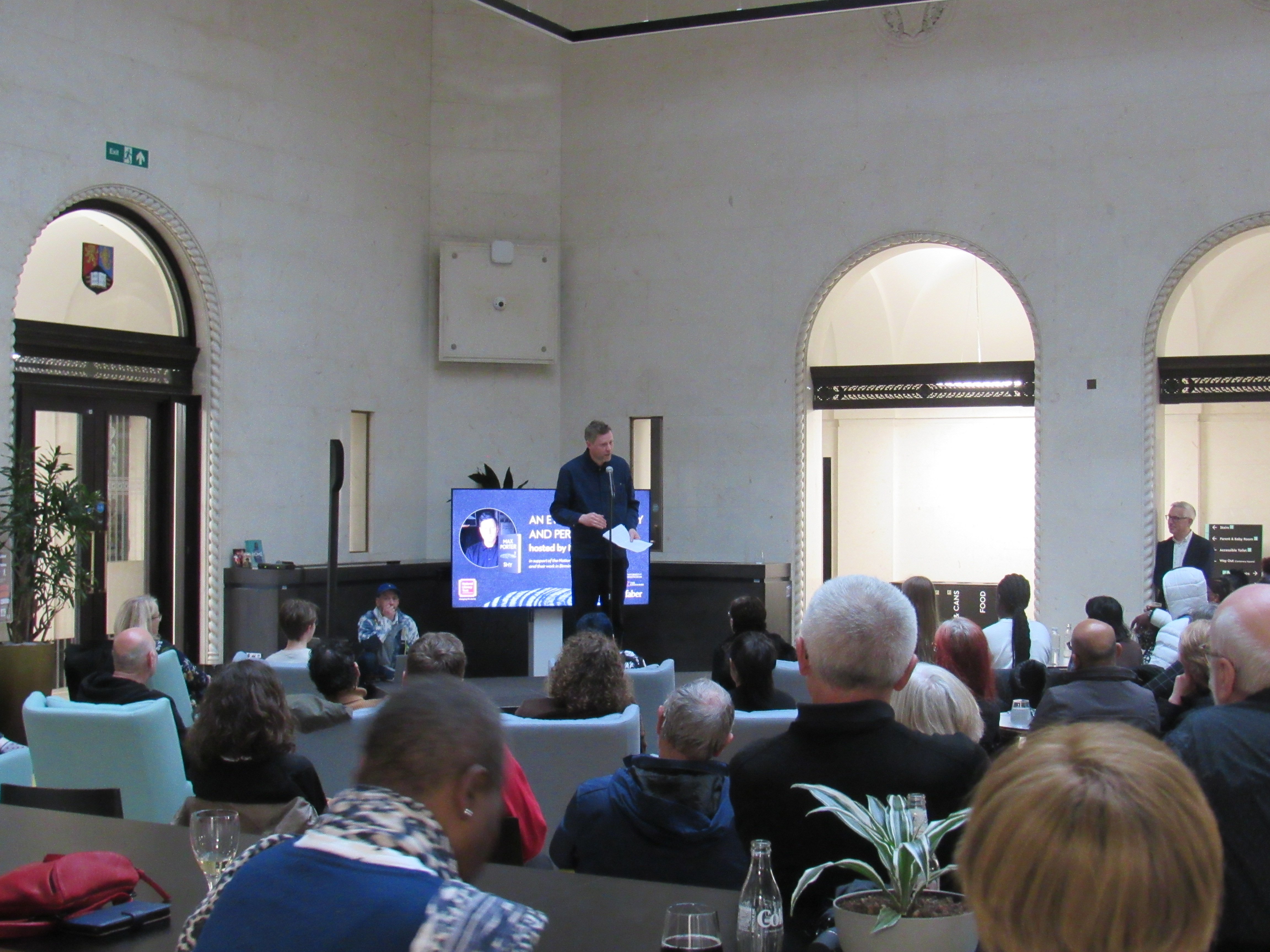 ''A massive thank you to Max, Bill, Faber and the Exchange for helping make this fantastic day of activities and evening event such a huge success. All too often low literacy can result in young people being held back at school, reduce their chances of landing a job and even effect their life expectancy. It's so important that we inspire our young people to find joy in reading and writing and events like this help to do just that. In fact, National Literacy Trust research shows that interacting with writers can have a positive impact on young people's literacy with young people twice as likely to read above the expected level of their age and are more likely to enjoy reading and writing.''

Kyle Turakhia, Birmingham Stories Hub manager
Both events were run as a partnership between Faber, The Exchange, and Birmingham Stories. The National Literacy Trust would like to thank The Exchange in Birmingham for hosting the activity throughout the day and evening. The Exchange brings together University of Birmingham's research, teaching, and networks to create a place of curiosity, celebration, collaboration and change.
Find out more about Birmingham Stories