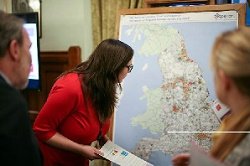 Every three years, the Organisation for Economic Co-operation and Development (OECD) runs its Programme for International Student Assessment (PISA), a survey comparing different education systems from around the world. PISA tests the reading, science, mathematics and problem solving skills of 15-year-old pupils.

Over 70 countries took part in the most recent PISA in 2015, including the 35 member countries of the OECD and all four countries of the UK. The UK has climbed from 23rd place in 2012 to 21st place in 2015 for reading scores.
The PISA 2015 report for England found that:
There has been no is significant change in average reading scores in England since 2006

The OECD average declined slightly in 2015, thus pupils in England performed above the average for the very first time

In only seven countries is the gap between the highest and lowest performing readers greater than in England

Boys in England perform less well in reading than girls by an average of nine months of schooling. This trend also exists in most other countries

Another report by the OECD found that England is the only country in the developed world in which adults aged 55-to-65 perform better in literacy and numeracy than those aged 16-to-24. This means that in time, the basic skills of the English labour force could fall further behind those of other countries.
For more information on literacy around the world, visit the OECD and the National Foundation for Educational Research.