Our Stories invites local families to join them at a series of fun, FREE family events, as part of Big Ideas By The Sea this May!
These events are perfect for families with children aged 0 to 11.
Big Ideas By The Sea is a new festival that started in Scarborough in 2021. Big Ideas By The Sea 3 will take place in May 2023.
The festival aims to be the North's leading environmental and creative festival by 2025.  This not-for-profit annual festival will bring leading speakers, thinkers, and creative people from science, the arts, business, technology and the environment to debate the Big Ideas that concern all of us.
We've teamed up with Big Ideas By The Sea to kick-off a North Yorkshire tour including storytellers and the stripy Big Stories Tent!
The adventuring tent's first stop is Filey Library, before heading on to Westway Open Arms in Eastfield and finally Scarborough Castle.
See below for our fantastic series of events for schools and the local community throughout May!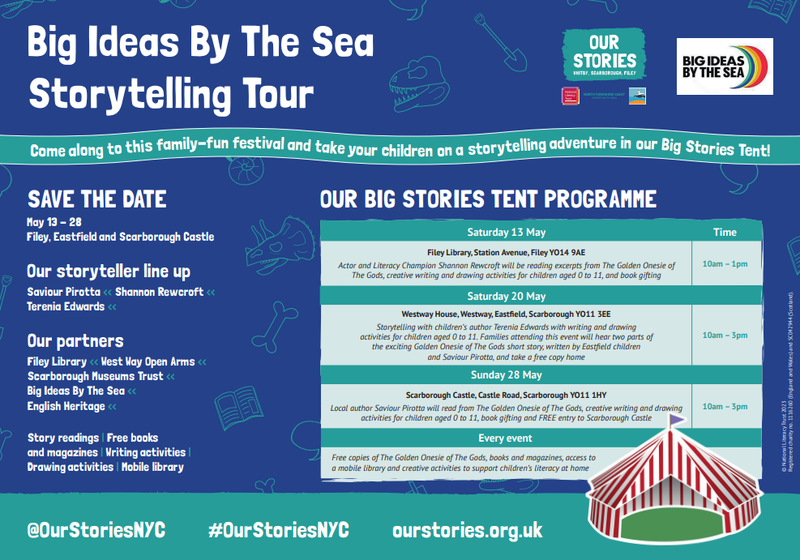 Saturday 13 May
Filey Library, Station Avenue, Filey YO14 9AE
Time: 10am – 1pm
Join an exciting and interactive storytelling session with actress and children's author Terenia Edwards on Filey Library green!
Terenia is an actress well-known for her appearance in the Sony Animation's Peter Rabbit film and BBC detective series The Moonstone. She is also famed for creating tales stop animation, hosting storytelling workshops and is working on her first children's picture book The Lonely Tiger.
During the day, there will also lots of writing and drawing activities which invite children aged 0-11 to create their own storytelling tent and explore the depths of their imagination by designing their own time-travelling comic strip.
Families attending this event will hear two parts of The Golden Onesie of The Gods short story, written by Eastfield children and Saviour Pirotta. All materials for the session will be provided.
Saturday 20 May
Westway Open Arms, Westway House, Westway, Eastfield, Scarborough YO11 3EE
Time: 10am - 3pm
Dive into a world of Greek mythology and fantasy lands with actress and Literacy Champion Shannon Rewcroft! Shannon will be reading excerpts from The Golden Onesie of The Gods, alongside creative writing and drawing activities for children aged 0-11, and book gifting. All materials for the session will be provided.
Shannon Rewcroft is an actress, voice artist, and singer from Scarborough. She has starred in a vast range of theatre productions including Romeo and Juliet (Orange Tree Theatre), Love from a Stranger (Theatre Royal Windsor) and A Christmas Carol (Bill Kenwright LTD/Wait Until Dark). Shannon has also starred in TV, such as INKA (Dream Catcher Film Studio / BBC Comedy), Random Acts: Fish Tank Girls (Channel 4), Gorka (Fodor Films), Elpis (Short) and Jumpers (Short).
Saturday 28 May
Scarborough Castle, Castle Road, Scarborough YO11 1HY
Time: 10am - 3pm
Join best-selling local author Saviour Pirotta for an exploration of The Golden Onesie of The Gods. Families attending this event will be granted free access to Scarborough Castle, during the fun-filled day of writing and drawing activities for early years and children aged 6-11, and book gifting.
Scarborough-based Saviour Pirotta is an author and playwright best known for the The Orchard Book of First Greek Myths, Firebird, and the Ancient Greek Mysteries Series. He has also written The Golden Onesie of the Gods with children in Eastfield - after a Roman Settlement was discovered near Scarborough in April 2021. It forms part of Revolutionary Romans, a project from the National Literacy Trust, which involved young people from Scarborough and Eastfield, and The Scarborough Museums.
Every weekend
During every event, families will get:
A free copy of The Golden Onesie of The Gods
A storytelling session inside our Big Stories Tent
Free access to books and magazines
Access to a portable library
Creative writing and drawing activities (for aged 0-5 and 6-11)
How do I attend?
Events are free and no sign up is needed - just turn up at any of the events above to join in the fun!
Simply like our page @OurStories to keep up to date with more details. We'd love you to share with friends and neighbours too!