Everyday adventures: chat, play, read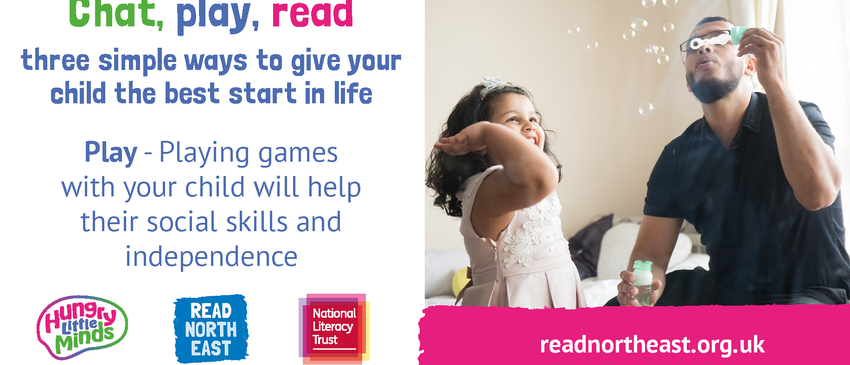 Play is an essential part of a child's life, helping them to grow physically and emotionally. Children get the most from their play when they are in charge of it – when they choose what to play, who to play with and what the rules are.
This page is full of tips and ideas to help you and your little one get the most out of playing together.

How can my child enjoy play time?
All children develop at different rates. The below is an indication of how your baby develops - some reach certain milestones faster than others. You can visit Hungry Little Minds to find out more.
At 1-4 months babies can recognise the difference between happy and sad faces. Play with different facial expressions and see if they copy. Babies also enjoy tactile stimulation at this age - try nursery rhymes like This little piggy or Round and round the garden
At 4-6 months babies can show if they like or dislike something. Use daily activities to stimulate their senses like smelling flowers or touching fluffy surfaces
At 9-12 months babies and infants can use everyday objects to communicate. Tell your child the names of things when they point at them and play games using toys they are interested in
At around 18 months infants will know around 50 words and can say about 20. They can follow simple instructions like "give it to me" or "come here". Make up sound effects when you're playing with them
At 2-3 years toddlers start asking simple questions and their understanding of words grows quickly. Use action words, describing words, and position words to describe what you're doing when you play together
At 3-4 years children begin to understand short sentences. Play make-believe games together which use opposites like big and little and trying asking your child to give instructions when you're playing together, e.g. brush teddy's fur.
At 4-5 years children can take part in longer conversations and they enjoy jokes when playing. Use open ended questions when you're playing with them: "What are you going to play with today?"
Activities
We've put together lots of activities to help you and your little one play together. Watch the video to learn how to make an Owl Baby out of an old toilet roll, use your muscles in a scavenger hunt, or enjoy our list of 10 games you can play using just yourselves or things you already have around your home.

You can find more tutorial videos inspired by different books on the National Literacy Trust Facebook page or search for Hungry Little Minds for lots of simple tips and activities.
Practice using muscles using big and small movements in a hunt for household objects

Learn more

Use this activity sheet to chat with your little one about the games they like to play in the park.

Learn more

Nine ideas to keep your family playing every day.

Learn more