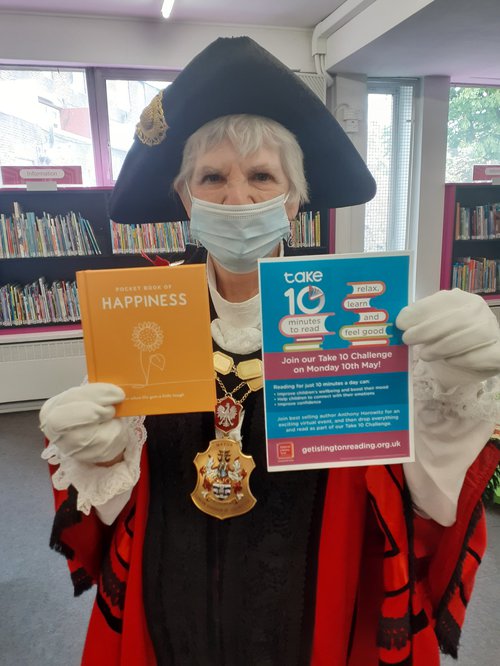 On Monday 10 May almost 5,000 people from schools and businesses in Islington took part in the #Take10ToRead Challenge from the National Literacy Trust.
At 10am, 4,867 children and adults across Islington stopped what they were doing to pick up a book and read for 10 minutes. The #Take10ToRead challenge came as a way to help promote reading to promote reading for wellbeing.
As part of the challenge, the people of Islington were asked to pick up a book, comic, magazine, or newspaper and read it for just 10 minutes, as research shows this all that is needed to benefit wellbeing. Schools and local businesses participated in the challenge, sharing images on social media with the hashtag #Take10ToRead in order to promote the importance of reading.
Across the nation, 100,000 children and adults took part in the challenge, including children from primary and secondary schools who also enjoyed a virtual visit from award-winning local author Anthony Horowitz.
In the virtual event, Anthony shared his love of writing and reading with the children, explaining that he finds reading "a wonderful way to escape from the world into a safer, happier, more enjoyable place." He encouraged the children to follow their passions and to always do what they love.
In a Q&A session with the children, Anthony revealed his favourite place to read is in bed, saying, "I start each day, every morning, I read a book – or part of a book, a chapter or page of a book, depending on how I'm feeling. In the morning I start by reading a bit of a story and when I get out of bed I feel happier." He then introduced the #Take10ToRead challenge at 10am ending on the note, "the most important thing to do, is to enjoy it."
Anthony Horowitz is the author of the best-selling Alex Rider and Power of Five book series'. The Alex Rider series has been adapted for television and the first season is available to watch on Amazon Prime. Anthony has won numerous awards including Children's Book of the Year and the Red House Children's Book Award.
"Our children thoroughly enjoyed the Take 10 Challenge on Monday 10 May 2021. This simple activity of reading for ten minutes gave the children a vital opportunity to see their trusted adults fully engrossed in a book. The challenge emphasised to them the importance of a lifelong love of reading and how integral reading is to everyday life, no matter how old you are! The atmosphere around Ashmount Primary was of calm tranquility. Many children have asked if we can drop everything and read for ten minutes every day."

Becca Hodgson, teacher at Ashmount Primary School