Launching Start for Life
We are working with the Department for Education and the Department of Health as a key delivery partner in their new Start for Life campaign. Start for Life is designed to encourage parents to chat, play and read more with their children, developing their communication, language and literacy skills before starting school.
We know parents want the best for their children but don't always have the skills, confidence, and resources to know how to support their children's literacy at home. That's why we're using our learning and expertise to empower parents across the country to make a lasting impact on their children's lives.
This user-friendly and engaging campaign promotes the benefits of chatting, reading, and playing with children.
Start for Life includes simple activities parents can do at home during everyday routines. Like the National Literacy Trust's work, it reassures parents that it's the small things that parents can do every day that will help children learn. You can chat, play, or read with your child on the way to nursery, on public transport, while you're making a meal or even in the supermarket.
It builds on the success of our place-based Hungry Little Minds campaign, which has already had a significant impact in 12 areas across the country: Newcastle-upon-Tyne, Middlesbrough, Manchester, The Wirral, North Yorkshire Coast, Doncaster, Birmingham, Black Country, Peterborough, Swindon, Croydon, and Cornwall.
In each area we will be supporting early year's settings and our community partners to reach parents living in disadvantaged areas with messages, tools, and resources. We will provide opportunities and experiences for families that stimulate and enable these important activities.
We'll use learning from our place-based work, enabling settings to strengthen their offer and support families in improving the home learning environment.
Parents can visit Start for Life to find tips and activities to help support their child's development and find further support in their local area.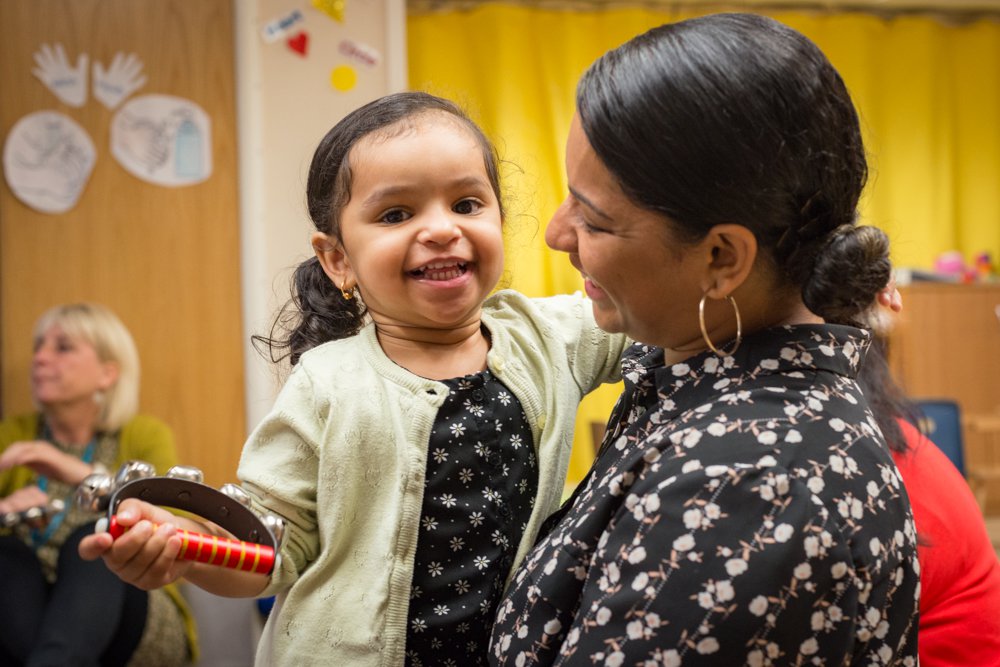 What is the home learning environment and why does it matter?
We talk about the importance of the home learning environment. This means parents having the resources, skills, confidence and knowledge to help their children to develop and learn through sharing stories, chatting during everyday activities and playing.
It is the quality of the home learning environment that has the most significant impact on children's speech, language, and communication skills and their social-emotional development.  Evidence consistently tells us that helping parents to chat, play and read more with their children is at the heart of creating a home learning environment that gives children the best start.
But when parents don't have the support to do this it leads to gaps in learning and wellbeing which last for a lifetime.
We know that children growing up in low-income families in the UK can start school 17 months behind their peers and the gap grows through their school years. Research consistently shows that children with poor vocabulary skills at age 5 are likely to do less well academically and may be up to twice as likely to be unemployed in their thirties.
There's also a strong link between a child's development and their health and wellbeing. Children who enjoy play, reading and conversation at home enjoy better physical, cognitive, emotional, and social development than peers who don't have a stimulating home learning environment.
At the National Literacy Trust, we know that poverty puts enormous pressure on children and families and makes it harder to create conditions or provide resources needed to support their children's learning at home. The pandemic and current cost-of-living crisis have pushed even more families into poverty and the need is greater than ever.
That's why the launch of the Better Health Start for Life Campaign is so welcome. I see this an opportunity to support families and focus on the home learning environment where we can have the biggest impact on children's life chances.
Visit Start for Life today for easy tips and resources to support children in the home learning environment.
Visit Start for Life