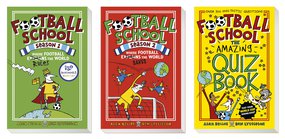 We've teamed up with Walker Books to launch a series of fantastic free teaching resources to inspire Key Stage 2 pupils to get writing ahead of the 2018 FIFA World Cup in Russia. 
Alex Bellos and Ben Lyttleton, the authors behind the best-selling Football School series, have set pupils an exciting challenge to write a lesson for their favourite subject... but with a World Cup twist! 
Pupils are tasked with uncovering the most entertaining facts and funniest stories about football in relation to their favourite subject. Can you play football on Mars? What were Henry VIII's football boots like? When do footballers go to the toilet? 
In true Football School style, pupils are also encouraged to include illustrations, jokes and diagrams in their lessons – which should culminate in a quiz designed to outsmart their classmates.

To help get pupils started, we've created a kit bag of goodies: 
World Cup Football School teaching resource, packed with top writing tips and lesson ideas for every subject

Handouts for pupils, including a checklist for creating their lesson and a coach stats card template 

A colourful poster to display in your classroom 
A certificate to celebrate when your pupils complete their writing challenges 
Download files
You might also be interested in