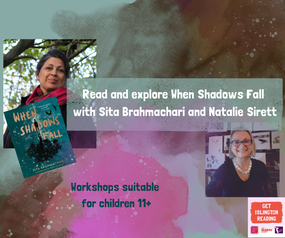 Refugee Week is a UK-wide festival celebrating the contributions, creativity and resilience of refugees and people seeking sanctuary. For Refugee Week 2022, author Sita Brahmachari and illustrator Natalie Sirett led discussion and activities linked to their book When Shadows Fall, exploring themes of love, loss and how friendships can help us grow.
Introducing When Shadows Fall
When Shadows Fall tells the story of Kai, Orla and Zak who grow up on a patch of wilderness between their homes, a small green space in a sprawling grey city. Music, laughter and friendship bind them together and they have big plans for their future, until Kai's family suffers a huge loss.
Trying to cope with his own grief, as well as watching it tear his family apart, Kai is drawn into a new and more dangerous crowd, until his dreams for the future are a distant memory. Orla, Zak and new classmate Om are determined to help him find his way back.
Guidance note: The book is written for young people aged 13 and upwards, and contains mature themes of mental health crisis and references to drug use. As always please approach these issues ​with sensitivity to pupil age and experience.
Workshops and activities
In line with the content guidance above, these workshops are intended for students in Years 8-11 (S2-S5 in Scotland).
Making wish bubbles with author Sita Brahmachari
Sita Brahmachari is an artist in residence at the Islington Centre for Refugees and Migrants, and joined us for a creative session to help students reflect on identity and aspirations.
Through the characters Kai, Orla and Zak, their search for a sense of belonging and the hopeful symbolism of bubbles in When Shadows Fall, students will learn about the power of journalling and being able to tell their personal story to help them grow, heal or make a positive change where they live.
Sita's workshop includes:
Readings from When Shadows Fall
An inspiring wish-making challenge
Writing prompts to guide students' creative responses.
They are encouraged to create wishes for their own friends, family or local area to help feel connected to the world around them, as part of Refugee Week's celebration of community.
Download, print and share the wish bubble from the available files list on this page to join in the challenge.
Please note the age and content guidance above, and ensure you have watched the workshop prior to sharing with your class.
When Shadows Fall draw-along with illustrator Natalie Sirett
Illustrator Natalie Sirett leads this digital draw-along workshop based on the beautiful illustrations in When Shadows Fall. Follow along and learn how Natalie created ravens, Omid's family and used light and shade to reflect the characters experiences. Then get students involved by drawing their own figures or symbols with ink, water, paint, charcoal or pencil.
Read and explore Zak, Kai and Orla's hopes
We have also provided free activity sheets to help students read and explore Kai, Orla and Zak's wishes in When Shadows Fall, and providing inspiratin for writing their own creative responses.
Resources include:
Bubble quote cards of Kai, Orla and Zak's wishes with space to write below
A set of writing prompts and key themes for your class to explore
More activities, including: creative writing ideas focusing on your students' interests and the special people in their lives
Download resources from the files list on this page.
You might also be interested in