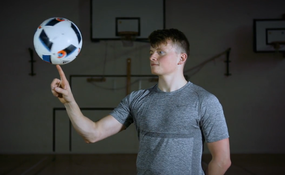 What is Skills Academy?
Skills Academy was designed as a 10-week programme to help secondary school students in Years 7 and 8 improve their literacy skills, focusing primarily on comprehension. For each week there was a carefully designed lesson plan focusing on a national curriculum-based comprehension goal.
Our evaluation showed that half of students participating in Skills Academy improved their reading age on average by 8.4 months over the 10 week programme, while 7 in 10 (71%) students said reading interesting texts as part of the programme had motivated them to be better readers, rewarding their reading progress by unlocking a video reward. The videos have professionals teaching the students how to master a particular skill in either freestyle football or beatbox & breakdance.
Access this sample resource
Skills Academy is currently unavailable to buy, but you are still welcome to download this sample resource from the available files list and use it in your classroom.
You'll need to login or register for a free account.
This PowerPoint is the first from the series of 10 and includes suggestions for activities and extracts from popular books including Keeper by Mal Peet.
Learn more about how our sport and literacy activities can support you
Download file
You might also be interested in