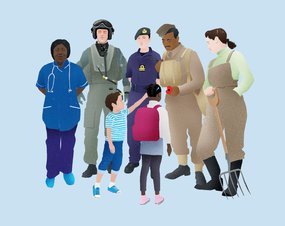 These assemblies encourage children to discover, explore and show their thanks for the service and sacrifice of those past and present by taking part in Remembrance. They were produced by The Royal British Legion and the National Literacy Trust and are ideal for use as whole-school and year-group assemblies, or for class presentations.
The resources
In 1921, for the first time, all of the symbols and ceremonies of today's Remembrance were brought together. These resource presentations begin by helping students learn more about national and public ways of marking Remembrance, and the origins of our current Remembrance traditions. They then explore how communities across Britain and Commonwealth countries have developed their own ways to remember, through monuments, symbols and communal commemoration.
The assemblies provide detailed information along with personal insights that help to explore how we build a personal connection with Remembrance, including individual acts of Remembrance.
We have assemblies for each of Key Stage 2 and Key Stage 3, and each presentation includes notes and questions to prompt deeper reflection and initiate discussion, especially around how Remembrance is evolving. This is designed to help students consider what new or traditional symbols and acts of Remembrance they will find most helpful for marking Remembrance in years to come.
---
Further remembrance resources

The National Literacy Trust has worked with the Royal British Legion to develop a wide range of additional resources across Key Stages 1 to 5. These include assemblies, ideas for exploring Remembrance through a whole-school project, as well as book club and creative writing activities. Resources are also available in Welsh.
You can download all these resources for free from the Royal British Legion's Teaching Remembrance pages.
Download files
You might also be interested in