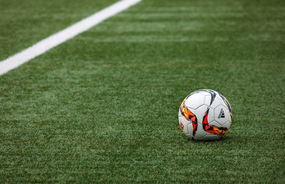 During the first three weeks of Euro 2016 football tournament, leading up to the commemoration of the Battle of the Somme on 1 July, the National Literacy Trust published an original children's story in 16 chapters to be read aloud in schools and homes to pupils aged between seven and 13. It was called Over the Line 2016.
The story follows Khalid and Grace, two children who are studying the Battle of the Somme in advance of a Battlefield Tour to the area with their school in the last week of June. The daily chapters responded to the events of the previous day at Euro 2016, such as the main stories that the broadcast and print media were covering from the tournament, controversies on and off the pitch, key games and the results for England, Northern Ireland and Wales. 
Other literacy resources relating to Euro 2016 and the Battle of the Somme including a literacy toolkit, can be downloaded from our Euro 16 resource page while members can also access daily writing activities.
Download files
You might also be interested in