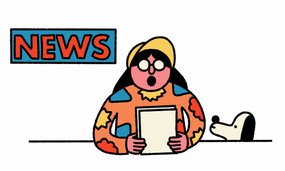 Our journalist training school equips pupils to spot misinformation and report the stories that are important to them. It is delivered as a partnership between the National Literacy Trust, The Guardian Foundation and the PSHE Association drawing on expertise from across all three organisations.
Using the Newswise learning sequence
Turn your classroom into a newsroom for the week with NewsWise!
NewsWise aims to empower pupils with the skills and knowledge they need to navigate the news as they transition from primary to secondary school.
This learning sequence will help them to engage with and enjoy news, to feel confident to ask questions and to challenge misinformation, to have their own values and opinions. It will also support pupils' writing skills, helping them develop a clear and authentic voice amongst their peers, in their homes, schools and wider communities.
I cannot overstate the impact the project has had on the children. They are so much more engaged and questioning of the news, and they have been encouraged to go home and teach their parents and siblings about fact checking websites, how to conduct interviews without judgement, and how to assess whether a report is biased or not. They have rightly relished the chance to be 'experts' and it has been a hugely empowering experience for them.

Teacher Roz Porter Tibbey, Grafton Primary School
To learn more about the project visit the NewsWise website or email newswise@theguardianfoundation.org
How to use NewsWise in your summer school
We suggest you turn your classroom into a newsroom for a week and totally immerse pupils in this learning sequence to develop their critical literacy and writing skills.
On this page we've provided a downloadable learning sequence and a sample lesson plan.
Follow the day-by-day sequence to take your class through the steps of:
Learning how a newsroom operates, and what makes a story newsworthy
Understanding how to investigate facts and identify fake news
Planning a news story, researching facts, gathering pictures and interviews
How to write a news story - language and structure
Publishing your news reports!
Links in the learning sequence will take you directly to full lesson plans and supporting resources which are hosted on the NewsWise section of the Guardian website.
Download files
You might also be interested in