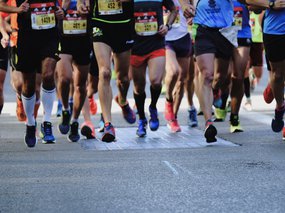 "It's doesn't just come overnight, you've got to train for it and believe in yourself; that's the most important thing."

Mo Farah
TCS Mini London Marathon in Schools
At the end of April, both expert and novice runners take to the streets for the TCS London Marathon. This year it takes place on Sunday 23 April 2023. Participants run 26 miles to raise money for the charities closest to their hearts. In doing so, charities can continue their remarkable work from finding cures and providing expert help to those in need.
This year, why not take part in the TCS Mini London Marathon in Schools? Excitingly, participating schools in 2023 across the UK are also invited to take part in a special challenge: to achieve a Guinness World Records title! Find out more and sign up.
London Marathon-inspired literacy ideas and activities
Are you taking part in the TCS Mini London Marathon in Schools or are your pupils inspired by famous runners and marathon journeys? Take this opportunity to engage pupils in marathon inspired literacy activities. Our London Marathon Hot Topic resource includes:
Book recommendations to read aloud and explore with pupils from 3 to 14 (across Early Years, KS1, KS2 and KS3)
Suggestions for speaking and listening activities including storytelling and performance poetry
Writing ideas from film-inspired writing to poetry to biographies
A selection of cross curricular activities including P.E. ideas and science experiments
The activities are designed to be adaptable for teachers working across different age ranges, and for the time you have available.
Explore our range of hot topic resources.
Function summary
Useful for: classroom teachers, literacy co-ordinators, school librarians, form tutors
Suitable for: pupils in Early Years, KS1, KS2 and KS3/Early, First, Second and Third Level.
Use: classroom teaching ideas and activities for literacy
Focus/theme: calendar moments as literacy learning hooks. See our schools literacy teaching calendar.
Download file
You might also be interested in