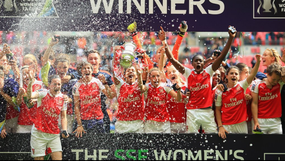 Aimed at both boys and girls, the FA Writing Challenges competition asked students to write speeches, poems and newspaper articles about the SSE Women's FA Cup Final. Each challenge was introduced by inspirational videos of top female players and supported by sets of free teaching resources.
The competition is now closed but the resources, including lesson plans and videos, have been re-purposed and are now available to download for free.
The resource
The resource is split up into three challenges. Each challenge includes:
A lesson plan
Supplementary resources and worksheets for students including mind maps, planning grids and example articles and quotes
The challenges
Challenge 1: asks students to write an article from the perspective of a player about their journey to the SSE Women's FA Cup Final or similar
Challenge 2: asks students to write an inspirational poem to motivate players in the FA Cup
Challenge 3: asks students to write and deliver a persuasive speech from the perspective of the captain of a team at half time
Links to the national curriculum
Each challenge is linked to the national curriculum for Key Stage 3 and supports cross-curricular learning. The challenges help students develop their persuasive and descriptive writing skills and use vocabulary appropriate for different forms of writing.

"It made some students aware that there are different writing mediums, and that they're not all "boring". One student said he now wanted to become a sports journalist."

Teacher
Download files
You might also be interested in