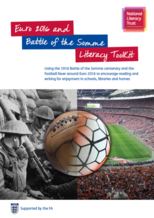 Many British footballers volunteered to fight alongside the millions of others who went to France a century ago, most famously the men of the Footballers' Battalion. July 1 2016 marked the centenary of the start of the Battle of the Somme and coincided with the UEFA Euro 2016 tournament, also in France. To mark the coinciding of these two moments, we created resources designed to inspire pupils to read and write for enjoyment and to engage them with studying, and enjoying, history.
In the toolkit you will find a wealth of football and First World War related activities designed for pupils aged seven to 13. These activities can be run in class, in assemblies and in the library and there are also ideas for engaging parents and running your own book groups.
Tom Palmer's episodic story Over the Line 2016 (which was written live at the time of the tournament) is available on the Over the Line resource page.
Additional resources supporting the toolkit are also available on these Euro 16 pages.
Download files
You might also be interested in