We teamed up with children's author Dave Cousins and the Authors' Licensing and Collecting Society (ALCS) to bring an exciting crime writing tour to eight different primary schools across our National Literacy Trust Hub areas, including Swindon, Hastings, Bradford, Middlesbrough, Nottingham, Peterborough, Scarborough and Stoke.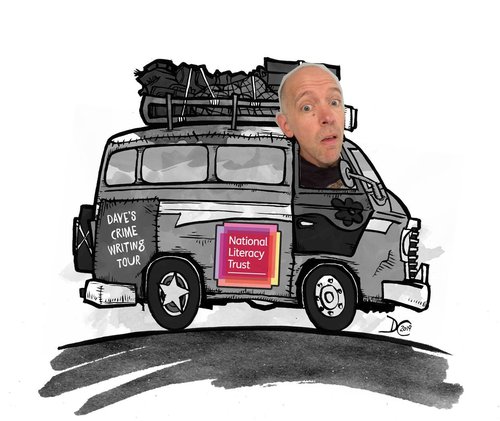 Dave Cousins, author and illustrator (15 Days Without A Head, Charlie Merrick's Misfits), gave primary school pupils from years 5 and 6 an insight into the world of creative crime writing by helping them plan a fictional robbery!
Dave took pupils through a series of fun and creative activities that gave them a flavour of what it is like to develop and write a story – from lively discussions about what the pupils wanted to steal and why, to pupils 'casing the joint' and drawing plans of how they were going to pull off the robbery. With ideas and enthusiasm overflowing, Dave then helped pupils get their stories down on paper.
Dave's crime writing tour celebrated the Ruth Rendell Award 2019. The Award was launched in 2016 by the National Literacy Trust and the ALCS in honour of crime writer Ruth Rendell, and is given to the author or writer who has made the biggest difference to literacy in the UK in the past year.
"Thanks to all the schools I visited while on the run! Some great ideas and wicked schemes!"

Dave Cousins